FAQ
Can I send in fabric swatches or other samples?
Yes, we encourage you to send us any swatches, paint samples, photographs, bedding pieces, etc.. that will assist us in matching your decor. Please Contact Us if you would like to send us anything! Anything you provide, will be returned with your order.
Generally, our orders take approximately 6-8 weeks from the time we receive your payment AND your order form (and any swatches/other materials required to complete your order). If you would like your items sooner, please take advantage of our Rush Options! We work to get things out earlier, but it all depends on our current volume, etc.
What if I want to check the status of my order?
We know it is exciting waiting to get your letters! All letter orders will ship approximately 6-8 weeks post purchase. Unfortunately we won't have any additional information to give you prior to the 8 week timeline if you ask for a status. We need the full 8 weeks to work our magic - from cutting your letters out, to designing the paint scheme, prepping, priming, painting, sealing, etc... So unless 8 weeks has lapsed, we ask that you avoid sending a status inquiry email because we will have to give you the same answer as above - to allow 8 weeks for shipping. I know it takes awhile, but we have a high volume due to our commitment of excellence-we have been doing these for 10 years and want each and every piece to be perfect! Thanks for your understanding!
When I purchase a certain size, are all the letters the same height?
All names/letters are scaled to size based in general on the capital letter and/or the "tall lowercase letters"-for example, if you order Kaylee- in 6.5 inch size, the K, y, l would all be approximately 6.5 inches and the rest will be smaller and scaled to the appropriate proportion. There can be slight variations on the exact size of each letter based on the individual fonts and lettering chosen, but that is the general rule on the sizing. The graphic below describes the sizing in better detail.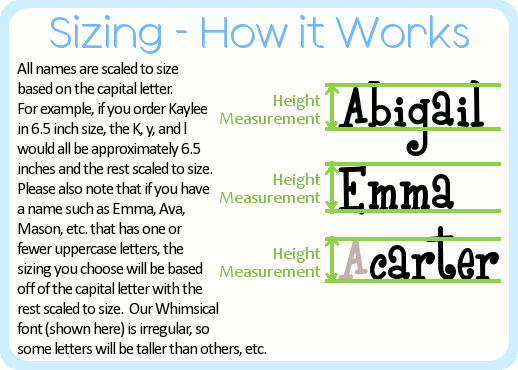 Can I get a delivery confirmation number once my order is shipped?
Yes, if you inquire about your order after the 8 weeks time frame has elapsed and your order has shipped, we will be happy to provide you with a delivery confirmation number from the US Postal Service. Please be aware that this is not a "tracking number". It will simply show when your order was mailed, and it allows us to confirm that it was delivered.
Is there a place where I can see the colors of paint you use?
Yes, this website shows many of the colors we have available.
Do you have other items available that are not listed on your website?
Yes, we do! We offer room signs, plaques, and many other items. Please contact us with your needs and we can assist you!
Do you accept returns or offer refunds?
Due to the custom nature of our items, we do not accept returns or offer refunds. However, if you have a concern with your order, please contact us. If there are any issues with an order, we need to hear from you within a week after delivery.
How does the "Free Shipping" promotion work?
Our "Free Shipping" promotion is available on orders totaling $50.00 and higher! Free shipping does not apply to international orders regardless of total due to the high expense to ship out of the country. Those orders will also be reviewed and an invoice for shipping will be sent.